Across Beverly Hills (and all of Los Angeles) are lavish homes owned and/or previously owned by heavy hitters of the entertainment industry, from leading ladies of the silver screen to sitcom superstars to world-famous filmmakers and other behind-the-scenes movers and shakers.
Bucking that uniquely Los Angeles real estate paradigm, in the mansion-packed mountains above Beverly Hills, up past RuPaul's opulent chateau, beyond a glitzy, moat-encircled ultra-modern mega mansion once leased by both David Beckham and Post Malone, a minimalist abode hidden amid lush plantings on a sunny, south-facing hillside has its stylish roots not in the business of show but rather in the intersected worlds of art, fashion, architecture and interior design.
Recently repriced at $9.7 million, the pedigreed property is available through Drew Fenton and Delaram Rivani of Carolwood Estates.
Originally designed in the mid-1960s by the not especially well-known architecture firm Frank Weber and Associates, the International-style dwelling was owned until his 1995 death by influential hotel designer James Northcutt, known for bringing residential looks to luxury hotels such as the Hotel Bel-Air in Los Angeles and the Surf and Sand Resort in Laguna Beach. Northcutt's estate sold the property in 1997 for $1.45 million to Rea Laccone, co-founder of the upscale fashion label Vince.
Laccone, an architecture buff who has bought and sold several homes designed and or re-designed by one famous architect or another, had the single-story structure restored and updated by L.A.'s Marmol Radziner. The original herringbone-pattern brick floors were retained but the home was altered to maximize light and capture the foliage-framed skyline views. Laccone liked the results well enough that she hung on to the place for 23 years.
After it first came for sale the year before at $9.5 million, Laccone sold the four-bedroom and three-and-a-half-bath home in early 2020 for not quite $7.8 million to powerhouse creative couple Laure Heriard Dubreuil and Aaron Young. Heriard Dubreuil, part of the French family that makes Rémy Martin Cognac, is the founder of The Webster, an über-chic multi-brand fashion house with luxury boutiques on both coasts, while Young is a California-born artist who first rose to prominence in the early 2000s.
A spare canvas perfect for displaying the couple's curated collection of contemporary artworks and vintage furniture, walls and ceilings are free of moldings and other ornamentation. Doorways reach grandly to the ceiling and the brick floors continue out to a long, slender loggia and around the swimming pool.
There is a minimalist fireplace in the combination living and dining room as well as in the more cozily proportioned den that's just off the skylight-topped eat-in kitchen. One of the guest rooms leads to a serene courtyard surrounded in lush vegetation and another has a mirrored wall that reflects the gardens outside the floor-to-ceiling walls of glass, while the main bedroom offers bespoke wooden built-ins and a roomy bathroom with a soaking tub and a marble-lined shower.
The home was featured last year in Architectural Digest, as was the couple's former home in New York, a 19th-century rowhouse in the East Village. The couple acquired the antique home in 2014 for $6.4. million from Mary-Kate Olsen's then-boyfriend and now ex-husband Olivier Sarkozy, dressed it up in a fashionably haute-funky manner and sold it in 2019 for $7.35 million.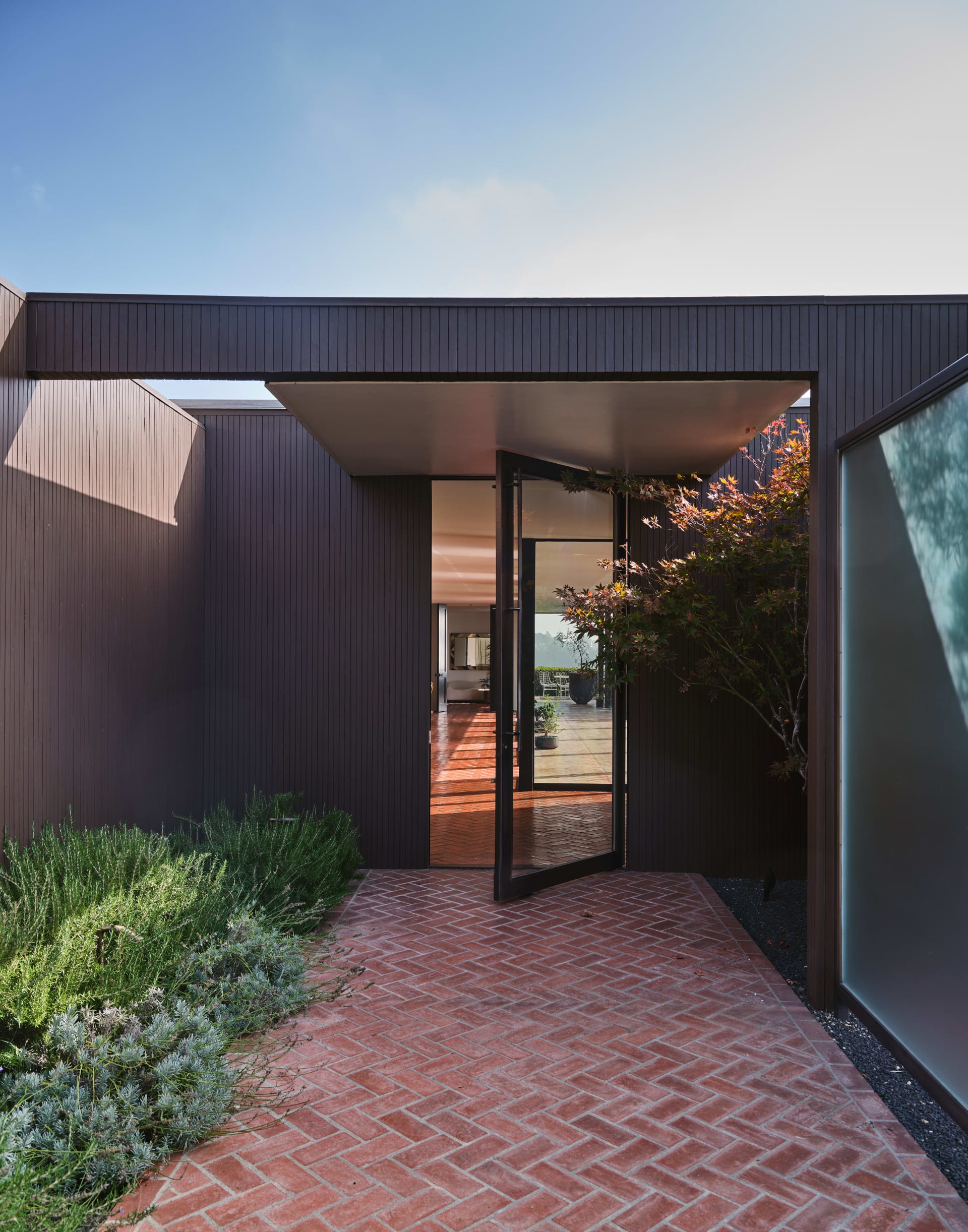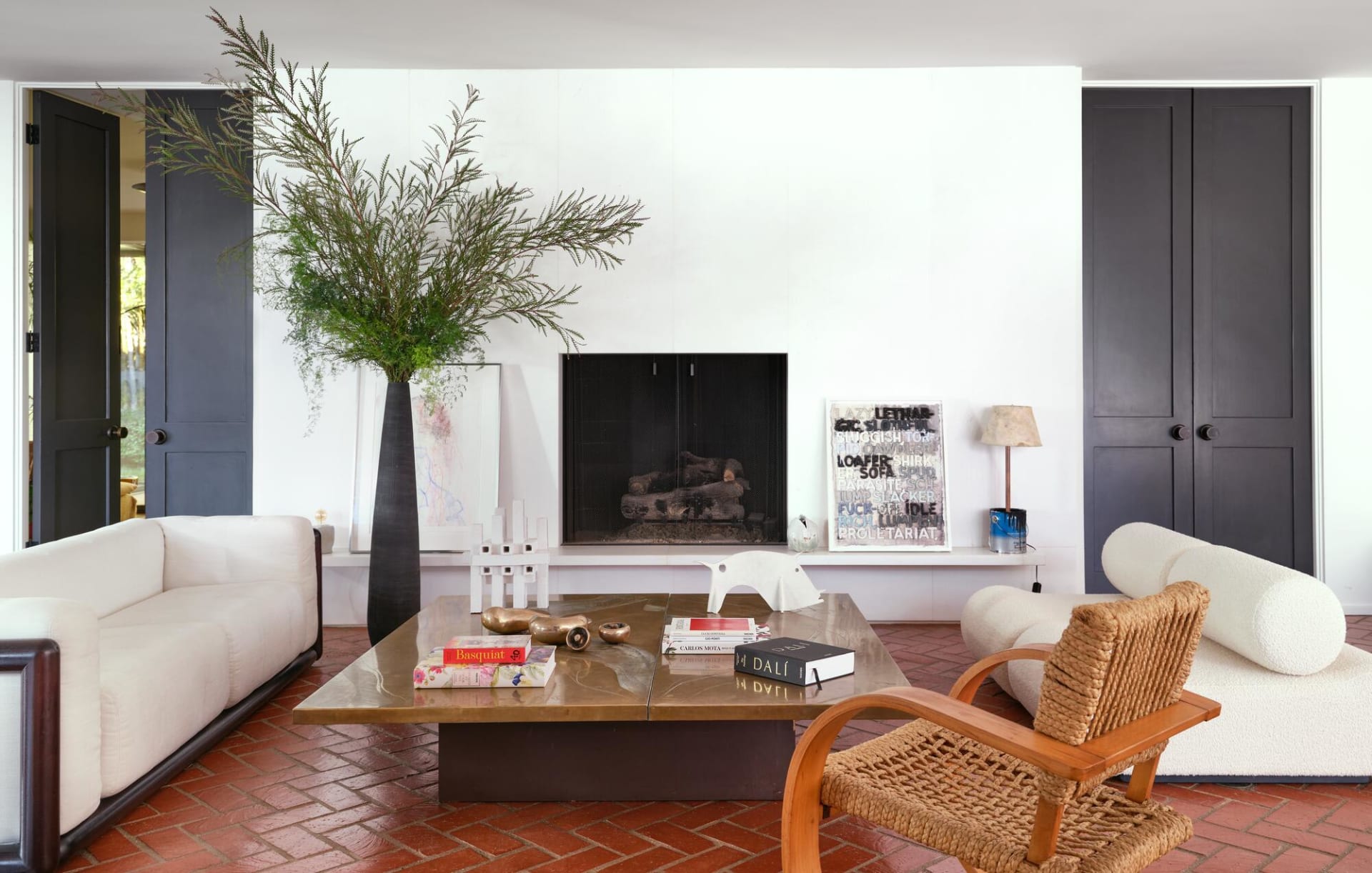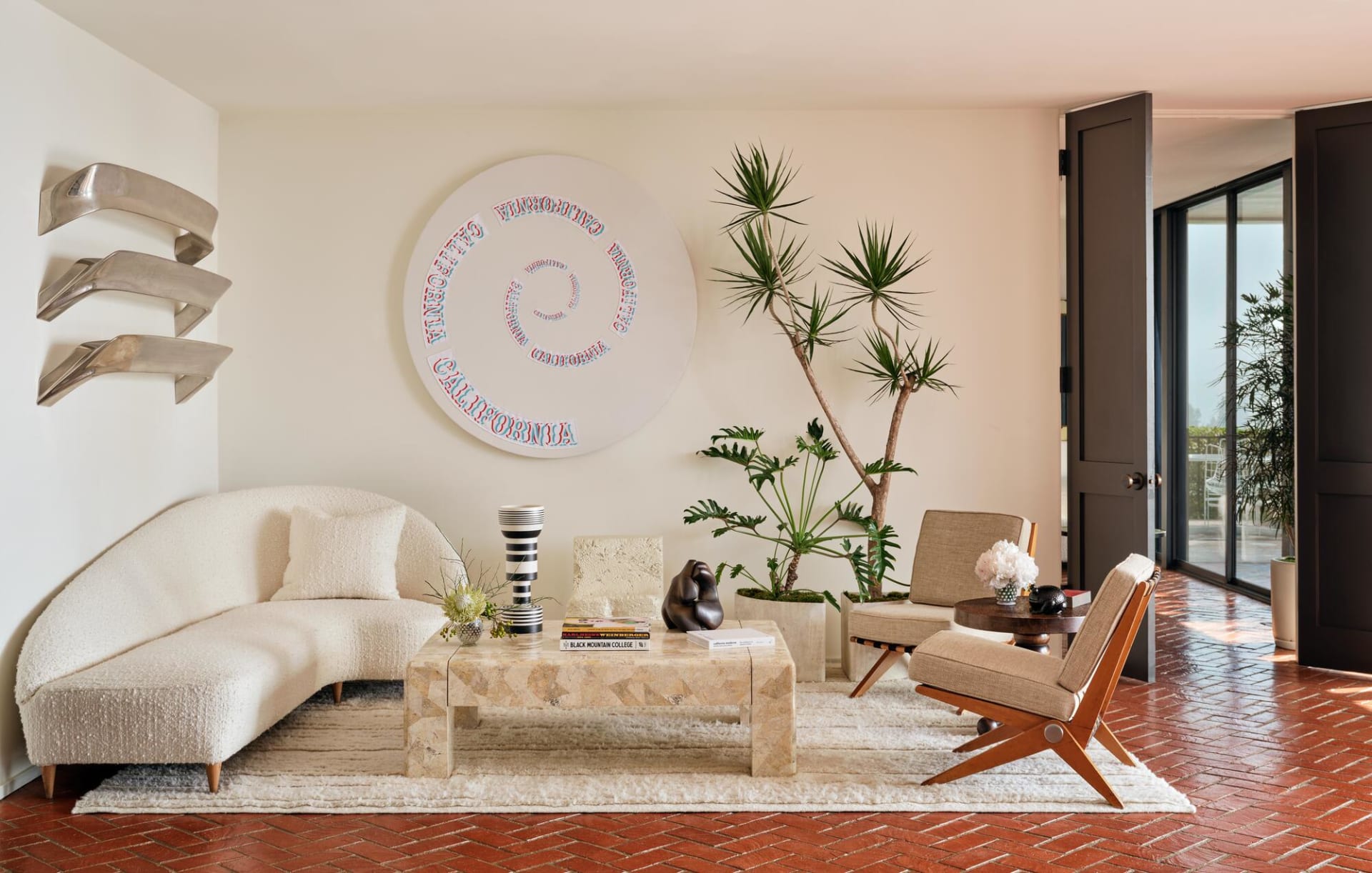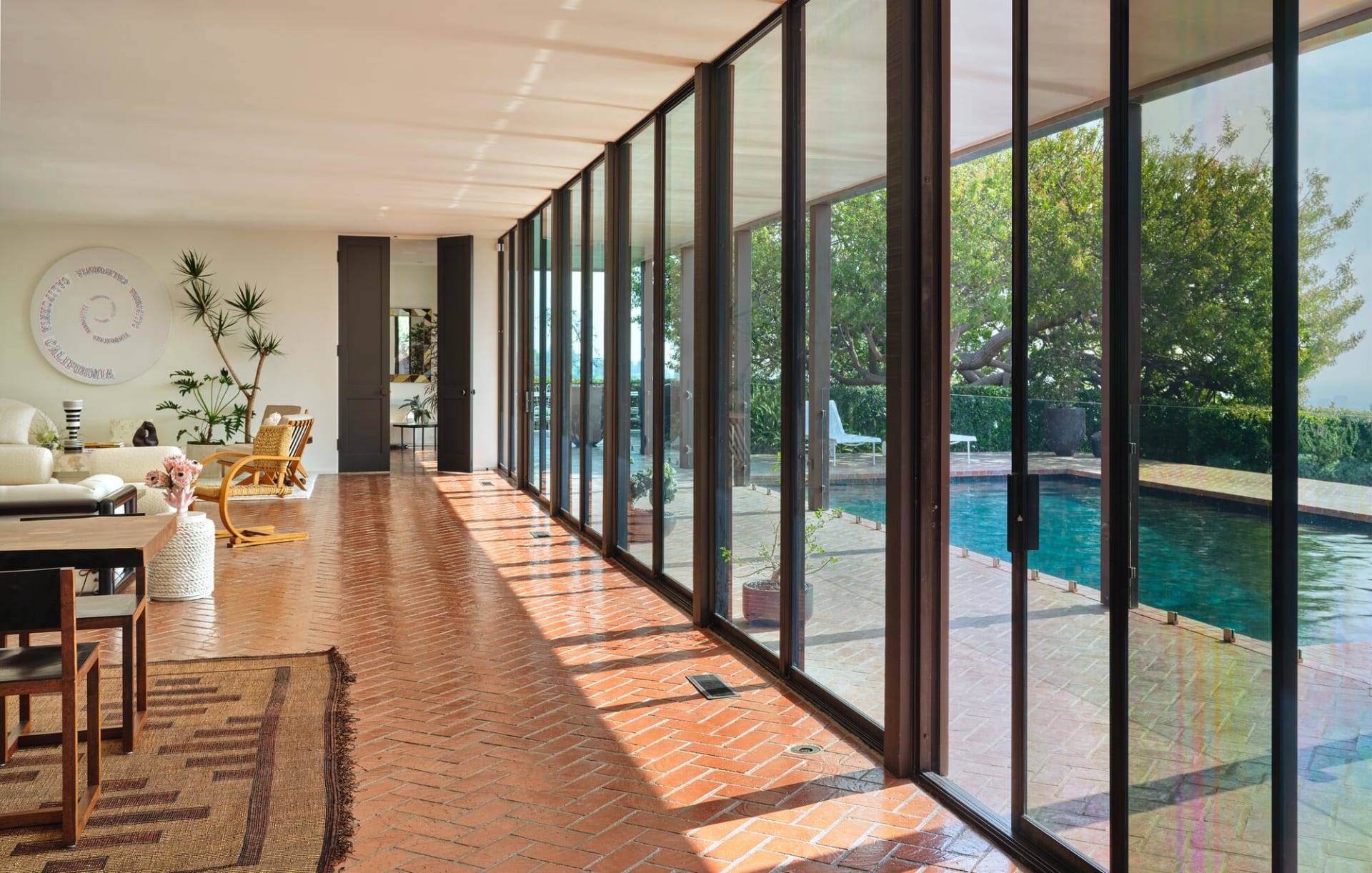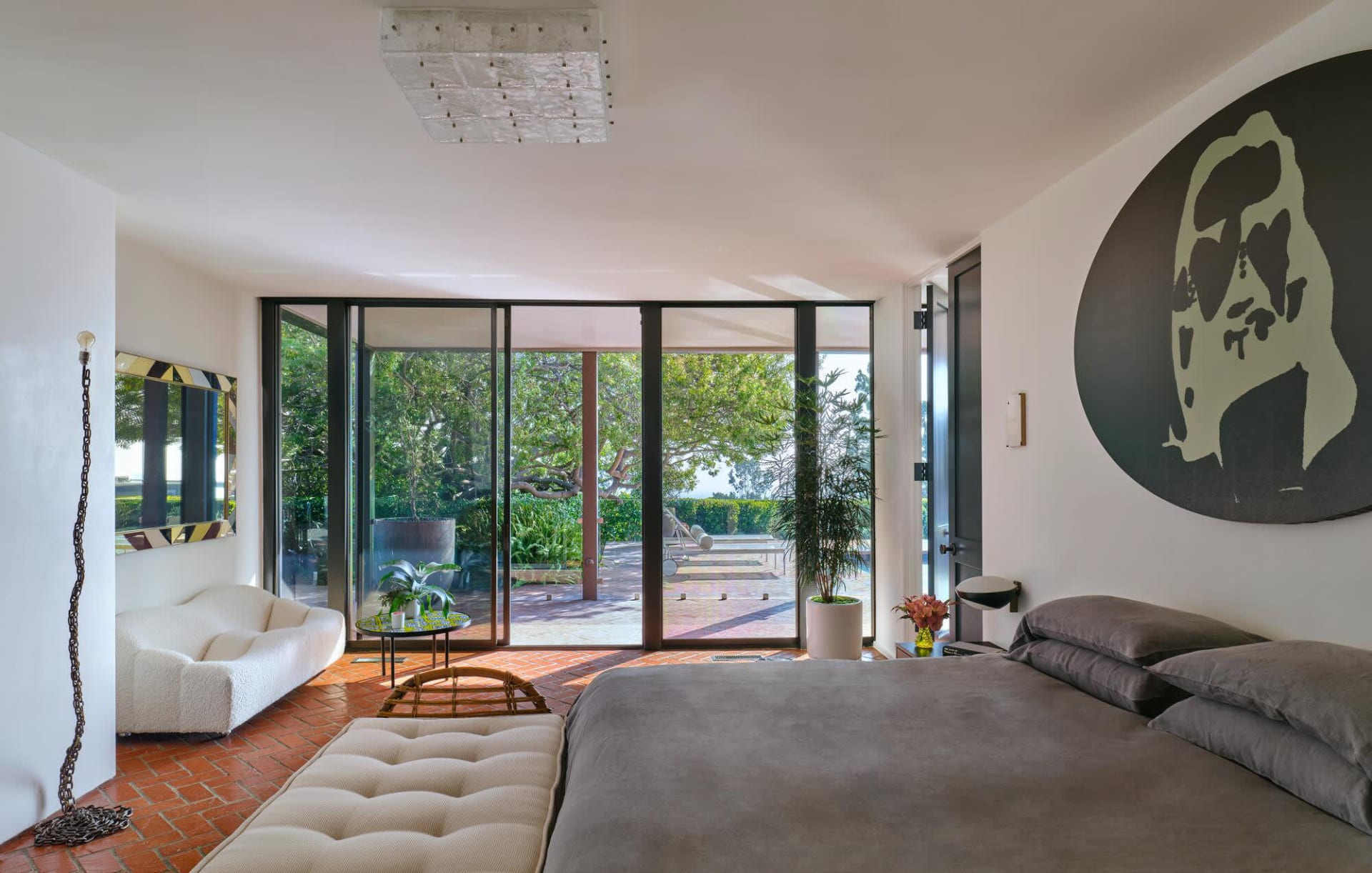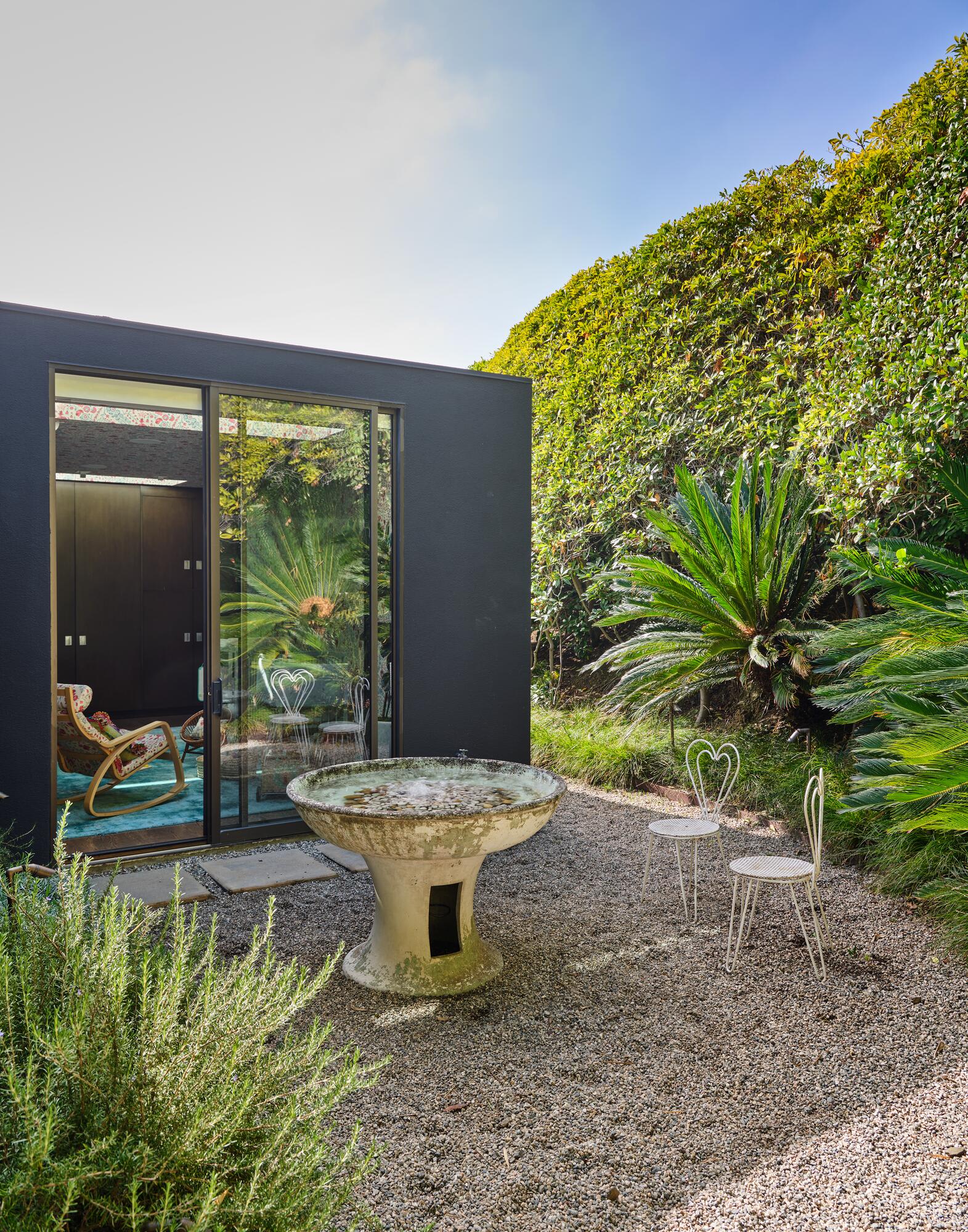 "A Jean Royère Croisillon sofa and armchairs form a poolside sitting area." (Architectural Digest)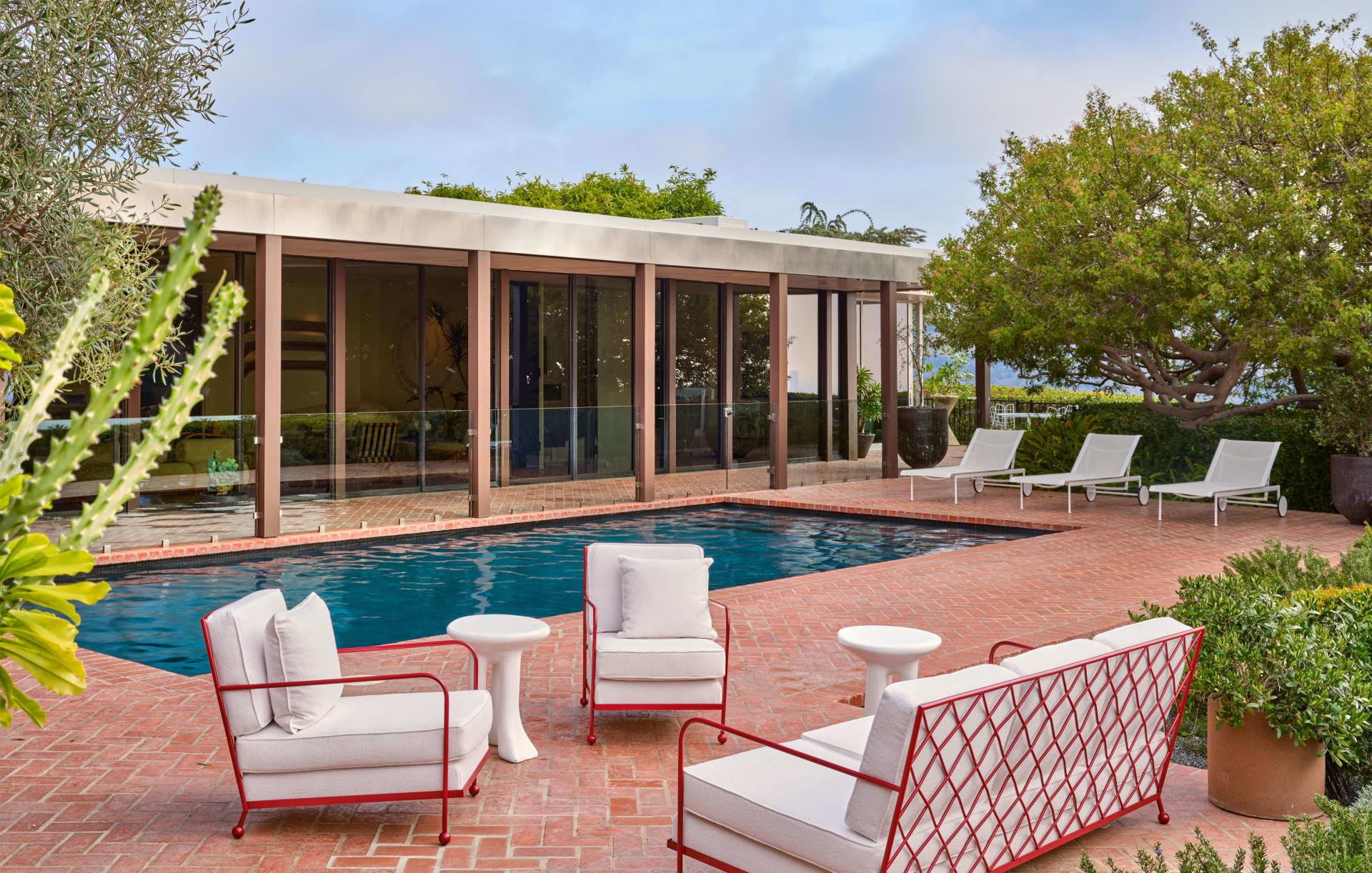 View Listing | Offered at $10,500,000 | Represented by Drew Fenton and Delaram Rivani
---
Story courtesy of Dirt